Rethink the inclinometer
Quick Description
The New Multi-Output Precision Inclinometer (MPI) provides high-accuracy with a sunlight readable touch screen & adjustable output parameters. The MPI measures in single or dual axis sensing mode, encased in a rugged machined Aluminum housing – the anodized finish protects the surface from wear. The design is well suited for hand-held use; each side is a machined flat reference surface.
user friendly
Touch Screen
The touchscreen gives the operator a visual output of the sensors readings and allows for full configuration of axis selection, outputs, Min/Max angle ranges, mounting orientation, green/yellow/red trip angle indicator lights, resolution, refresh rate, trip angle settings and more.
highly precise
Bulls-Eye Bubble Level
The bulls-eye bubble level mode allows for the highest level of precision in any leveling application.
rugged. reliable.
100% Tested
Our company and employees are dedicated to providing 100% quality testing of all our units. Each unit goes through vigorous testing to ensure that you are getting the best. Each unit is issued its own calibration data sheet matched to the serial number; your device's unique data sheet, along with the user guide and related documents, are available for download at our Rieker Solutions portal here.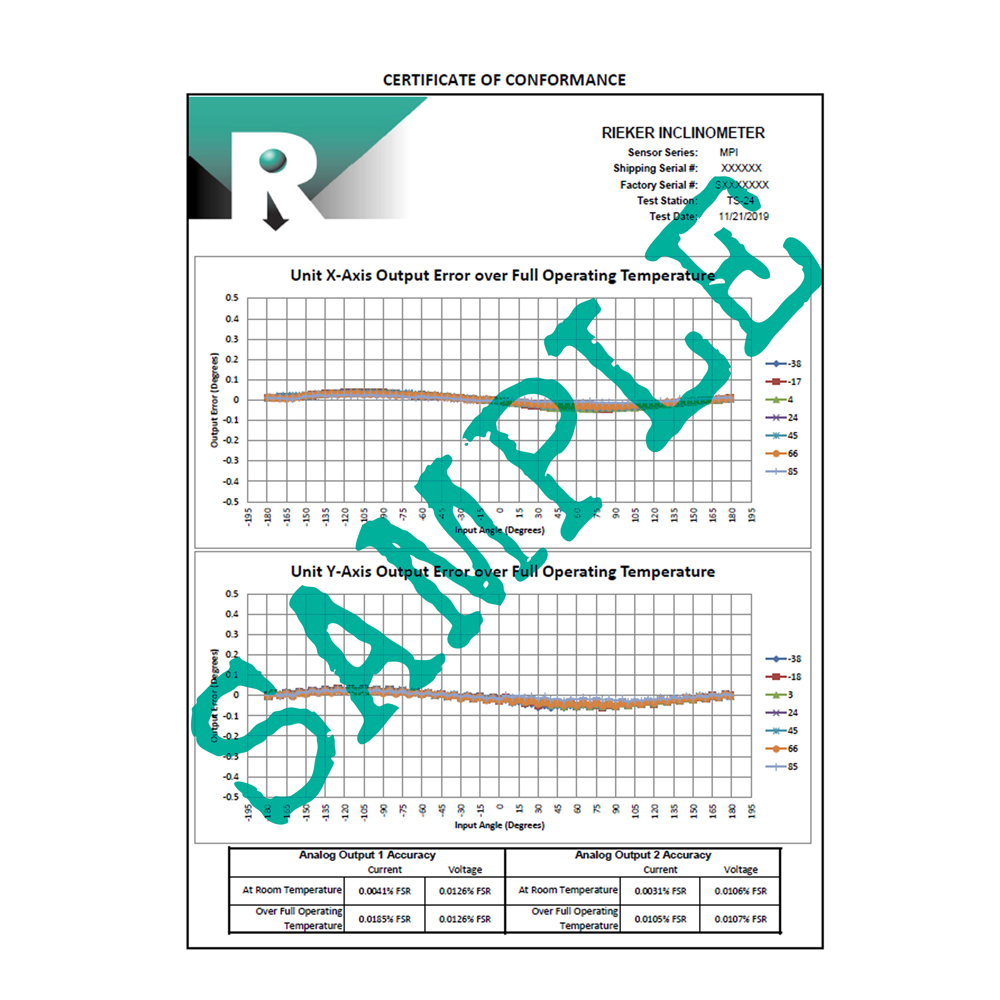 Angle Measuring Range:

±180°

Measurement Axes:

Single or Dual

Measurement Orientation:

Horizontal or Vertical

Input Supply:

8-30VDC Non-Regulated, Rechargeable 3.7V Lithium Ion Battery

Input Protection:

Reverse Polarity, ESD & Surge Protection

Current Consumption:

120mA (operating) , 500mA (charging)
Graphic Display Parameters
Touch Screen:

Capacitive surface touch, sunlight viewable.

Display Resolution:

0.01° (default), 0.1° , 1°

Min / Max Readings:

Stored in Volatile Memory

Relative Zero:

Stored in Volatile Memory

Permanent Zero:

Stored in Flash Memory

Trip Angle Indicator Lights:

Green / Yellow / Red (Configurable)
Relay Output Type:

Isolated Contact, 4 Available

Relay Current Limit:

0.6A each

Switch Function:

Normally Open (for Out of Range Indication), Normally Closed (for In Range Indication)

Switch Trip Delay:

Adjustable up to 2 seconds

Switch Trip Angles:

Adjustable trip angle endpoints
Digital Serial RS232 Output
Baud Rate:

9600 to 250K (Configurable)

Data Bits:

8

Parity:

None

Stop Bits:

1
Output Type:

RS-485 Half Duplex (2-wire)

Inclination Output:

32-Bit IEEE Packetized Float

Baud Rate:

9600 to 250K (Configurable)

Byte Format:

8 Data Bits, No Parity, 1-stop Bit, No Flow Control

Information Rate:

Polled (up to 10 times / sec)
Voltage Range:

0-5V (1kΩ load min.)

Voltage Output:

2.5 ± 2.0 VDC

Voltage Resolution:

<0.01°

Sensitivity:

Relative to Scaled Range

Null(0°):

Fully Configurable
MPI KIT
Each MPI Kit comes with the following:
MPI UNIT
Multi-output Precision Inclinometer

CHARGING CABLE
USB-C Charging Cable

HARD PROTECTIVE CASE
Rugged hard protective case.*

MOUNTING BRACKETS
Vertical and Horizontal Magnetic Mounting BracketsPipe Mounting Bracket

INTERFACE CABLE
6 ft. 9-pin Interface Cable

SOFT CARRYING CASE
Soft protective carrying case.

*Hard Protective Case Not Pictured
Our MPI unit is a touch screen inclinometer offering a multi-output precision sensing solution. The MPI offers multiple configurable outputs: Graphic Touch-Screen Sunlight-readable Display, Digital RS232 & RS485, Analog Voltage, and four (4) Relay Switches providing maximum functionality.
The display shows angle in degrees (º), percent grade (%), or inch per foot rise (") with either 1, 0.1 or 0.01 degree resolution. The display provides graphical axis level indicators in green, yellow, and red, which can be activated to trip at predefined angles within the specified measuring range – providing the operator a bright visual alert of changed condition. These can be coordinated with the built in Relay outputs – each with field adjustable trip angle settings.
The MPI also has a Bulls-Eye Bubble Level mode for precise leveling applications.Powered by a long-lasting rechargeable battery or external 8..30VDC non-regulated input supply the MPI is made for mobile hand-held use, temporary magnetic placement (mounting plates included) or permanent installation.
Read more